It's been a while. I can't seem to finish anything lately. I wrote a lengthy and witty article on the US elections and its socio-political parallels to battlestar galactica. I made some compelling arguments on why i believe Mccain should win the election which could be summarized by the picture below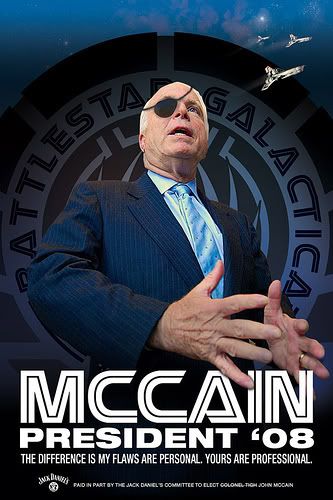 But I'm guessing the article would not help him win the election now so I'm putting it in the trash bin. I guess America just isn't ready for a Cylon president yet. On a somewhat related note, after a long wait, the second half of Battlestar galactica season 4 finally starts this month. This is cause for celebration.

I did a video review of Underworld 3 rise of the lycans. I'll probably post it tomorrow if I'm not too lazy but let me tell you in advance that if you're a fan of the series, you'll probably like the film.
===========+++=========

On a totally unrelated note, remember Myca? We did a photoshoot last year. She's featured on the september 08 issue of slitzmag. She also wrote a few articles there. You can download a PDF copy of the entire issue on their site. It's free! No, they didn't pay me to promote their mag but I'm hoping that they would.


You can check out my portfolio at my multiply.