It's been ages since I last updated this blog. If I were a selfish manly man who didn't care about the edutainment of his fellow manly men, I probably wouldn't update this blog anymore. But since I still get hundreds of hits from men who are in constant search for manly stuff in general, as well as people looking for videos of masturbating elephants cumming on a bucket, (a bunch of them stumble to this blog for some reason) I will continue updating this blog.

Here's a tip for bloggers who are under a spell of writer's block. Post a bunch of pictures of hot babes, write a few lines to describe them, call it a top 10 list and you get tons of hits from google image search.

So here's my top 10 list of the philippines' hottest/cutest women. Since I don't want this blog to look like a showbiz chismis blog, I'll try to limit the list to non-mainstream personalities.

10.)Precious adona (Model): Other than the fact that she has some of the most eye catching pics ever to grace FHM philippines, I know absolutely nothing about her. But she's the spitting image of Olivia munn in these pics don't you think? Olivia is teh hotsorz



9.)Gretchen fullido (newscaster):I'd like to talk about her effervescent style of reporting and her excellent communication skills but there's a line in the secret man code that says "pictures of curvaceous bikini clad women lying wet on the beach are worth a thousand words" this description is therefore way too long already.



8.) Bubbles Paraiso (TV host): One of the hosts of the now defunct studio 23 show "it's a guy thing". Why is she here? Cos she's a gadget geek, she's witty and she's sexay.



7.) Bianca Gonzales: (TV host) I thought twice about including her in this list because she's very mainstream now but I absolutely adored her back when she was still doing film critiques on cinema one. I love good films and, consequently, film critics as well. That's why she's on this list.



6.) Andie Manzano (DJ/VJ): Apparently. she was a DJ at a radio station before. Never really listened to anything other than NU107 back when I was still into FM radio so I never heard of her 'til much recently. Fortunately someone realized the obvious fact that she's too cute for radio and she's working as a VJ for MTV Philippines now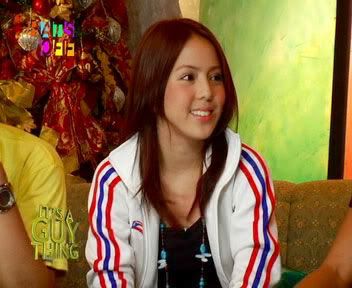 5.)Pinky webb (newscaster): One of ANC's finest. One does not use words like "cute" or "adorable" to describe Ms Pinky Webb. Such words are used to describe girls and Miss webb is no little girl. Paul finch would describe her best


4.)Marieton Pacheco (newscaster): One of the cutest anchors ANC has ever produced. Miss Pacheco has a smile that will have you thinking of rainbows butterflies, unicorns and pink fluffy teddy bears.



3.) Ellen Adarna (internet celeb/model?): Not really my kind of chick (not geeky enough) but she's undeniably cute. Arguably cuter than anyone on this list, at least judging by that picture below. She also has a huge following which would make her a good hit-bait. She rose to fame when her pictures got posted in different forums and fake friendster accounts. She recently appeared on the covers of UNO Philippines and candy mag. Pimply teeners post pictures of her on their walls, write countless poems professing their undying love to her, create altars devoted to her worship etc… It's all very depressing, I tell you, so I shall continue no further. Oh and btw, she's over 18. I just thought that some of you elderly gents would be interested to know



2.) Reema Chanco (TV host): Ms. Chanco is the permanently tanned bombshell who hosts the show "pinoy gamers" on the makisig channel. The only locally produced show dedicated to gamers. I think she also has a co-host. I'm not sure, I never really noticed. Why is she on number 2? because she's a gamer chick. Any gamer chick would definitely score high on my list.



1.) Gaby dela merced (racecar driver): There's nothing sexier than a smart, articulate woman who can also burn rubber. She also plays airsoft and a bunch of other guy stuff. Tomboys have a special appeal for most guys. It's the closest thing they can get to a lesbian without actually getting a lesbian. PBB sort of made her mainstream but she's still cool in my book.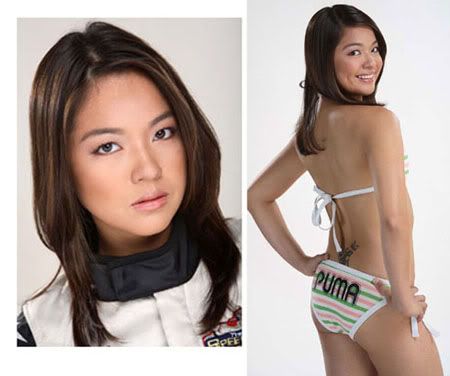 Don't send me hatemail if you don't agree with my list. I'm not sure if I agree with it either. And so I don't get in trouble, I'd like to clarify that none of these pictures are mine... but i also do model photography as a hobby. If you wanna see my work, check out my multiply. http://jaywalker0415.multiply.com/ [/shameless self promotion]


Tags: elephants masturbating cumming on a bucket top 10 hot chicks babes Filipinas asian azn gaby dela merced reema chanco ellen adarna andie manzano pinky webb marieton pacheco bianca gonzales bubbles paraiso precious adona
Read More......